About RORY...
Instantly recognisable by his signature hat, 13 year old Rory Phillips from Tumut has been described by one of Australian Country Music's greats, Bill Chambers (accomplished solo artist and father of Kasey Chambers), as "always displaying a professional enthusiasm way beyond his years, and definitely has a way with an audience".
Rory fell in love with music at a very early age and it was the music of Joe Walsh (the "Eagles", "James Gang"), which initially hooked him. Drawn to Joe's rock and blues guitar sound, Rory was captured by the instrument and consequently, was given his first guitar at age five. Fast-forward to 2015, to an Eagles concert in the picturesque setting of Hanging Rock in regional Victoria, and young Rory shared a moment in time with his hero that he will never forget. Holding up a rain-soaked sign which read, "Hey Joe, I play guitar because of you", Joe saw Rory's sign during the final song, smiled and waved at him, then took two guitar picks from his pocket and asked the security guard to give them to him.
Feeling more inspired than ever, Rory continued to hone his performance and playing skills, with the dream of one day being able to play like his idol. It is a tall order, but Rory continues to chip away at it. His career highlights so far include twice being named in the top ten buskers at the prestigious (open age) Tamworth Country Music Festival Busking Competition (2016/2017), being a featured busker at Byron Bay Bluesfest (2016/2017), graduating twice from the CMAA Junior Academy of Country Music (2016/2018) and Rock Academy Melbourne (2017) and being invited to play at the 2017 Melbourne Guitar Show. Rory was named the Australian National Busking Champion (primary-aged) in 2016, took out the title of Junior Tamworth Champion of Champions in January 2018 and most recently, was shortlisted for the role of lead guitarist, Zach Mooneyham, in the Australian production of Andrew Lloyd Webber's School of Rock – The Musical.
Rory's influences span blues, country and rock and his performances reflect that. An aspiring songwriter, a live set is often sprinkled with some original tunes. Rory's debut six track EP, Cars and Guitars, containing three original songs, was released at the Tamworth Country Music Festival in January 2017 and has enjoyed radio airplay across the country and overseas. Rory has appeared with Australian blues legend Lloyd Spiegel (named by Australian Guitar Magazine as one of the Top 50 Australian guitarists of all time) and Bondi Cigars front man, Shane Pacey. He has supported/played with Australian country artists such as ARIA winner Shane Nicholson and Golden Guitar winners The Bushwackers, Bennett, Bowtell & Urquhart, Catherine Britt, Bill Chambers and Fanny Lumsden. Rory has shared the stage with former AC/DC bassist, Mark Evans, and has even played the maracas with Carlos Santana at the Byron Bay Bluesfest in 2017!
ENDORSEMENTS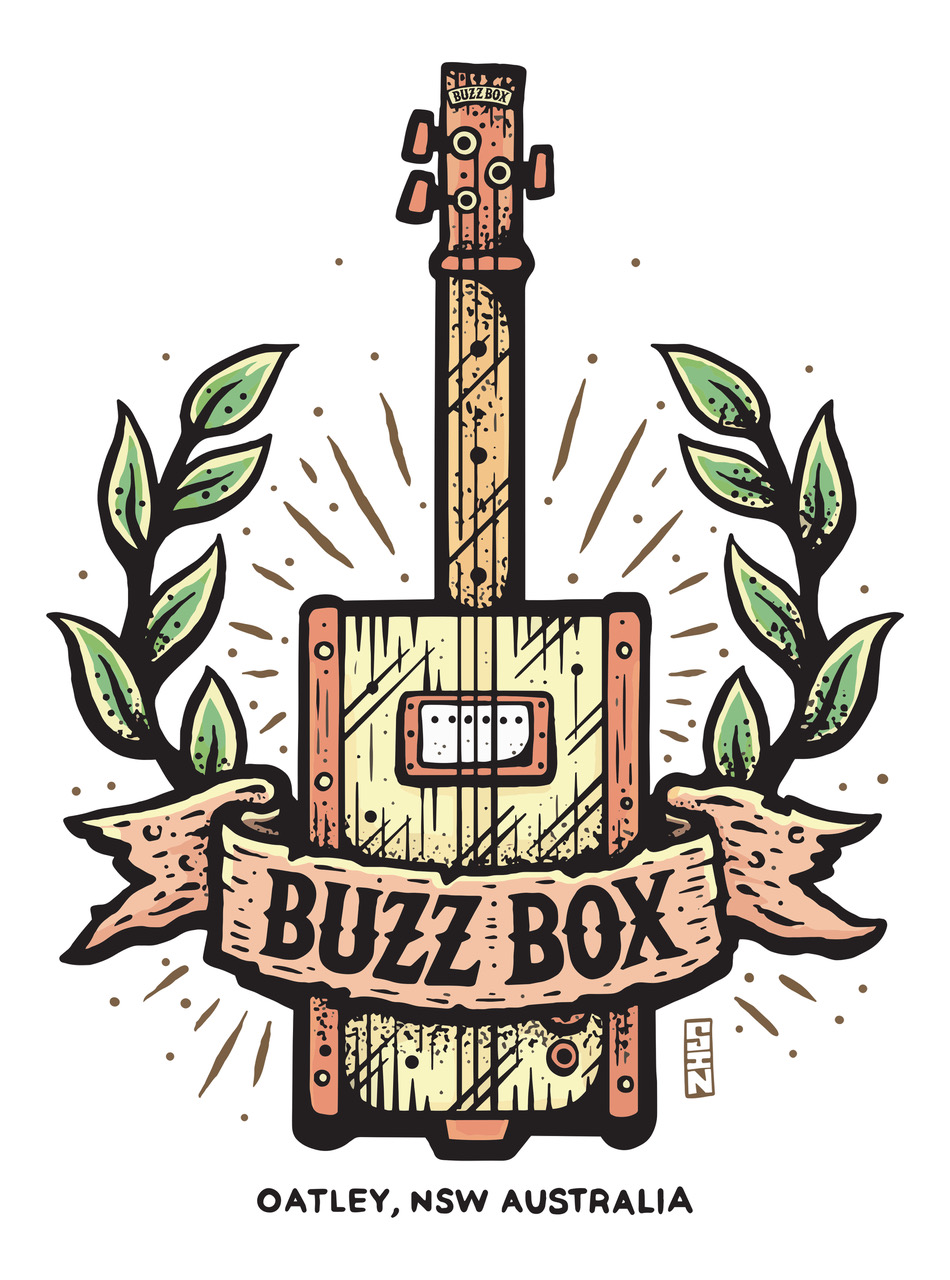 In March 2019, Rory was officially endorsed by boutique Australian company, Buzz Box Guitars, makers of premium handcrafted three and four string slide, cigar box and tin guitars. Please visit their website to learn more.
Achievements
Awards/Competitions:
· Winner - ICMA Patti McKinnon Encouragement Award 2019 (Tamworth Country Music Festival)
· Winner (Junior Section) - Tamworth Champion of Champions Event 2018 (Tamworth Country Music Festival)
· Winner (Junior Section) - Mount Franklin Junior Talent Quest 2018, 2016 (Tamworth Country Music Festival)
· Finalist (Junior Section) - Aristocrat Country Entertainer of the Year 2018 (Tamworth Country Music Festival)
· Finalist (Open) - Contemporary Song of the Year 2018 (Tamworth Songwriters Association) for Cars and Guitars
· Finalist (Open) - Tamworth Country Music Festival Busking Championships 2017, 2016
· Winner (Primary Section) - Australian National Busking Championships 2016
· Featured Busker, Grommets Busking Competition - Byron Bay Bluesfest 2017, 2016
· Winner - Bidgee Blues Club People's Choice Award 2016
· Second Place - Wagga Wagga StarFM Australia Day Talent Quest 2016
· Finalist - Yamaha Battle of the Young Stars 2019, 2016 (Tamworth Country Music Festival)
· Finalist (Junior Male Vocal) - Capital Country Music Association 2016 (Tamworth Country Music Festival)
· Third Place (Primary Section) - Australian National Busking Championships 2015
· Encouragement Award - Wagga Wagga StarFM Australia Day Talent Quest 2015
Festivals/Events where Rory has performed:
· Lanterns on the Lagoon - Tumut (2019, 2015)
· International Blues Music Day - Wagga Wagga (2019, 2018)
· Cobargo Folk Festival - Cobargo (2019)
· Australian Blues Music Festival - Goulburn (2019)
· Tamworth Country Music Festival - Tamworth (2019, 2018, 2017, 2016)
· Toyota Hats Off To Country - Tamworth (2018, 2016)
· Sydney Country Music Festival - Bella Vista Farm Park, Sydney (2018)
· Country Rocks Under The Stars - Mona Farm, Braidwood (2018)
· Peak Music Festival - Perisher (2018)
· Cork & Fork Fest - Wagga Wagga (2018)
· Bonnie Doon Music Festival - Bonnie Doon (2018)
· Festival of the Falling Leaf - Tumut (2018, 2017, 2016, 2014)
· Ciderfest - Batlow (2018, 2017, 2016, 2015)
· Melbourne Guitar Show - Melbourne (2017)
· Byron Bay Bluesfest (Roaming Busker, Busking Stage) - Byron Bay (2017, 2016)
· Floriade (Regatta Point Stage, Stage 88) - Canberra (2017, 2016)
· UBERfest - Sydney (2017)
· TumbaFest - Tumbarumba (2017)
· Woodstock "Rocking the Central West" - Woodstock (2017)
· Junee Rhythm N Rail Festival - Junee (2017, 2016)
· National Cherry Festival - Young (2016)
· Farm Draft - Wagga Wagga (2016)
· Riverina Round Up - Junee (2016)
· Batlow Apple Blossom Festival - Batlow (2016)
· Rock or Bust Music Fest - The Rock (2015)
Photographer: Donna Longobardi